Description
Catless Downpipe S58 engine – BMW M2 G87 M3 G80 G81 M4 G82 G83 
A dAHLer Catless Downpipe S58 engine (set) for the BMW M2 G87 M3 G80 G81 and M4 G82 G83 will perfect the sound and power of your car.
Made from high quality stainless steel and comes with a classy sandblasted finish and can be shipped worldwide.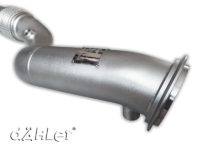 True to the motto: Exact like a Swiss clockwork, the dAHLer Catless Downpipe S58 for the BMW M2 G87 M3 G80 G81 and M4 G82 G83 meets the highest demands in optics and fitting accuracy. A great success for us that it's extremely lightweight at maximum strength. It weights only 4.3 kg (8.6 lbs)
The installation time is according to BMW timings and the new sound and power for the BMW S58 engine underlines the high-tech character. It installs by simply using the original fastening points. While it is possible to install this part on your own, it is highly recommended that you use a professional. dAHLer will not be responsible for poor installation practices. We recommend having the assembly carried out by a professional car workshop or BMW dealership.
Also check out our engine performance upgrade.
Are you from the USA? Please click here.