BMW M3 Competition G80 Tuning
BMW M3
&

Competition G80 Tuning
The All-New BMW M3 Sedan G80 – How to create an extreme sports sedan?
A dAHLer engine performance upgrade for the all-new BMW M3 Competition Sedan G80 will blow you away.
The incredible 3.0-liter BMW M TwinPower Turbo inline 6-cylinder engine outperforms your competitors with a 0-60 mph acceleration time of just 3.5 seconds and a staggering 612 hp (US 605 hp) and incredible 750 Nm (545 ft-lbs) of torque in the M3 Sedan Competition model customized by dAHLer.
Our engine performance upgrades work with cars after production 06/2020 as well for xDrive and RWD models.
BMW M3 Competition: Engine Performance Tuning
QUICK FACTS
EU Version -> US Version
Max HP gain:        
102 hp (75 kW) -> 102 hp US
Max Torque gain:
100 Nm -> 66 ft-lbs US
Standard power:
510 hp (375 kW) -> 503 hp US
650 Nm -> 479 ft-lbs US
Enhanced power: 
612 hp (450 kW) -> 605 hp US
750 Nm -> 545 ft-lbs US
Based on 98 octane -> 93 octane US
Features - Engine Upgrade
FEATURES
Works with cars before and after production 06/2020
No removal of the DME required
Controlling of the Performance Tuning via your smartphone
Quick Plug & Play Installation
Runs as smoothly as stock, this is how your BMW should have come from the factory
Compatible with all driving modes
Fuel economy unchanged during normal driving
93 octane or less compatible tuning maps
Not VIN locked, can be removed without a trace and resold down the road
Developed in Switzerland and Made in Germany
Tested on the German Autobahn
Comes with TUV Part Approval (emission tests according to WLTC regulations)
USA -> EPA compliant
Worldwide 3-year product warranty
App Control
App Control
Controlling of the dAHLer Engine Performance Upgrade for the BMW M3 and M3 Competition G80 Sedan via your smartphone is just one of the awesome features of our tuning module.
With our tuning module you have the option to choose your own and fully customizable driving program. Wirelessly connect the dAHLer engine tuning performance module to your Bluetooth 4.0 compatible iOS and Android device via the free dAHLer Mobile app.
This option allows you to change 3 different performance maps, and update the firmware worldwide as we release free newer versions with updates, more powerful maps. If desired the extra power can be easily switched on or off with your smartphone, even while driving.
Our app includes a configurable warm-up timer, so the pilot can decide how long warming up is needed before using the engine tuning. A separate Mobile app purchase is not required!
We will provide you the app after the purchase of our engine performance upgrade free of charge.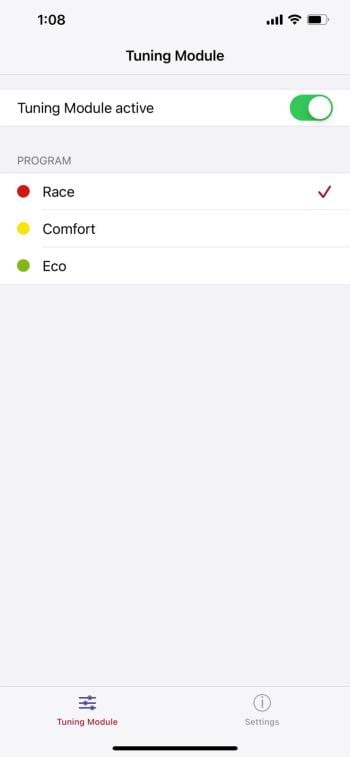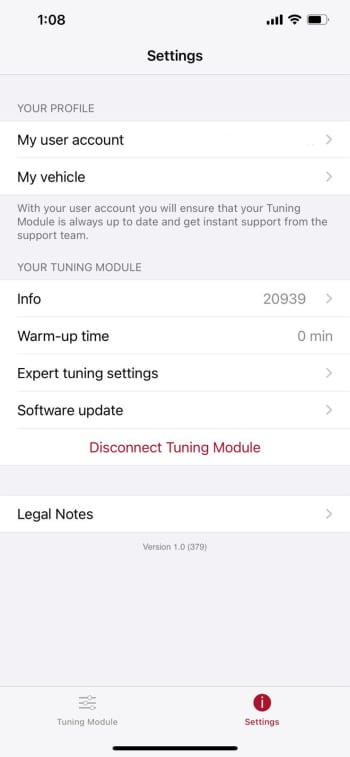 About our technology
DESCRIPTION – We don't push it over the limits!
Our Engine Performance Tuning Module for the BMW M3 and M3 Competition G80 Sedan integrates flawlessly to extract maximum power and torque without faults and errors – just flawless. The harness has OEM style plugs to connect in-line with each boost pressure sensor, camshaft position sensor, and rail pressure sensor on the engine.
The dAHLer Engine Performance Tuning Module for the BMW M3 and M3 Competition G80 Sedan is completely reversible to OEM specs and installs in about 1 hour just in a few simple steps. This will be a safely upgrade which makes this the easiest and most effective power upgrade you will ever make on your BMW M3 G80 Sedan. For a substantial increase in power output, with minimal downtime for installation, full serviceability, and can be reverted back to stock then this dAHLer Engine Performance Tuning Module power upgrade is best!
Inside our dAHLer Engine Performance Tuning Module is an advanced control unit that is designed to optimize and work with the factory BMW ECU. BMW M3 G80 maps and algorithms within the control unit have been elevated for this BMW engine, sending improved fuel and ignition parameters to the stock ECU to control boost and rail pressure depending on load, engine speed, and other factors.
Also included in the scope of delivery is an adapter which, when installed, returns the vehicle to its original state without having to remove the cable harness of the dAHLer engine performance upgrade. This can be used, for example, at a workshop appointment.
SAFETY
With our Engine Performance Tuning Module all of the factory safeguards of your BMW M3 G80 remain in place, including overload protection and warm-up protocols to preserve longevity and factory drive-ability. One of the amazing advantages of this type of system is that it is unaffected by factory BMW updates and service.
If BMW updates the computer software, our Engine Performance Tuning Module is not lost or overwritten. This is where competitor tuning modules fall short! This is just another key aspect of our module because BMW is constantly releasing small software updates. All of the factory diagnostics and service access is retained.
The Performance Tuning Module is undetectable to plug-in diagnostic readers and it leaves no traces behind. A valet connector is included and installs in minutes to bypass the Engine Performance Tuning Module and revert the car to factory settings. With the valet plug installed the BMW engine computer will use the stock maps instead of getting modified data from the Engine Performance Tuning Module.
dAHLer Engine Tune M3 G80 | Installation & Dyno Run | KIES Motorsports
FORGED dry carbon fiber engine cover
A dAHLer forged dry carbon fiber engine cover for the BMW M3 G80 G81 and M4 G82 G83 will perfect the looks of your S58 engine.
Forged Carbon Engine Cover
Exact like a Swiss clockwork, the dAHLer forged carbon fiber engine cover for the BMW M3 G80 G81 and M4 G82 G83 S58 engine meets the highest demands in optics and fitting accuracy. A great success for us that it's extremely lightweight at maximum strength. It weights only 0.9 kg (2 lbs)
Made from authentic, hand laid  forged dry carbon fiber material, epoxy resin and then finished in a durable gloss clear coat for heat-protection and extra durability
dAHLer ATTC
Give your BMW or BMW M car a new way of anti-theft protection and at the same time a 10% quicker acceleration with the new dAHLer Anti-Theft Throttle Commander – ATTC.
Anti-Theft System
The revolutionary dAHLer anti theft system comes with an Anti-Theft Mode, a Valet Mode, Power Pedal Mode and is a must have if you want to protect your BMW against theft.
You control your dAHLer Anti-Theft Throttle Commander – ATTC with the included remote control unit without losing sight of the essentials.
How does the ATTC work?
Our module, wiring harness and remote (Anti-Theft System) can be installed in any BMW, BMW M, BMW Plug-in Hybrid and BMW Electric vehicle with an electronic gas pedal and is ready for use immediately after installation.
It's is a direct plug into the existing (OEM) harness at the accelerator pedal.
The dAHLer Anti-Theft Throttle Commander disables the accelerator pedal on the next vehicle start. This makes it impossible to rev-up the engine without having the dAHLer remote control.
Criminals might be able to crack the signal, open the door, even start the engine and shift in gear, but this is where the story ends. They are unable to move the car.
It is not necessary to activate the Anti-Theft mode again after each stop. The function remains activated by default until the function is deactivated again.
Grand Theft Auto - Is it really that simply to steal a modern car?
Unfortunately, it is absolutely simple, takes 2 minutes with the right technology which is mostly in the hands of criminals.
In vehicles with a keyless go or a similarly functioning system, theft is carried out by means of a relay attack.
Criminals try to intercept signals
It has been known for years that the trick works in front of single-family homes, in parking lots, even while you sit in coffee shop, where there is often only a short distance between the car and the car keys. But underground car parks in large apartment buildings? Yes, perpetrators also run through the stairwells of apartment buildings and try to intercept signals on the apartment doors.
Nationwide in the United States in 2020, there were 810,400 vehicles reported stolen, up from 724,872 in 2019 and that number has increased dramatically in the last two years.
BMW M3 & M3 Competition: Cat-Back Exhaust System
We offer a performance cat-back exhaust for the BMW M3 G80 Sedan with a sound that has to be experienced.
An addition to our exceptional performance upgrades for your BMW M3 G80 is the dAHLer performance exhaust system, taking it to the next level.
Exhaust System
You're looking for a high-quality German-made stainless steel performance exhaust system with exhaust flap for your BMW M3 or M3 Competition G80 Sedan?
Our dAHLer performance exhaust systems for the BMW M3 G80 is handcrafted from high quality 1.4301 stainless steel and are Made in Germany by a team of specialists at an ISO 9001:2015 certified facility.
No check engine lights, no re-programming of your car or anything silly is required after installation. The dAHLer exhaust system for the M3 G80 is compatible with xDrive, RWD, left and right hand drive models as well as cars with and without OPF.
Approved  and tested by the German TUV this system comes with a European Homologation according to the latest emission standards and is EPA compliant (USA).
Rolling legit with a high-class exhaust system with an awesome sound makes the difference to our competitors.
The dAHLer performance exhaust system for the BMW M3 and M3 Competition G80 comes with a high-performance muffler and double exhaust flap system with no drone on the highway of a much more aggressive sound then the stock muffler but still be perfectly livable for daily driving.
Not only do we engineer our valve-controlled performance mufflers to sound good we engineer the performance exhaust systems that fit your BMW M3 G80 properly for a much easier installation.
Designed to mount using the factory BMW M3 G80 exhaust hangers, the dAHLer performance exhaust system is a bolt-on replacement for the OEM version. To help reduce the time you spend installing the dAHLer performance exhaust system on your BMW M3, slip-fit joints are included to make fitment as easy as possible. Our quad or double exhaust tips are designed to fit the stock BMW M diffuser.
The dAHLer performance exhaust system for the BMW M3 G80 Sedan includes a high-flow, valve controlled, stainless-steel performance muffler, and is available as a cat-back system.
The dAHLer exhaust system for the BMW M3 G80 is here to improve your driving experience with an awesome sound and a noticeable bump in performance.
Under normal driving conditions, our valve-controlled performance muffler stays closed, and the dAHLer exhaust system for the BMW M3 G80 is quite unassuming and nobody will really even suspect your car even has an aftermarket performance exhaust system or muffler. But, when you open up the throttle, the valve-controlled system opens up the exhaust flaps, and our performance exhaust system gives your BMW M3 a powerful menacing growl.
For those who want to be fully in command of the exhaust sound at any time and get the race car like feeling, dAHLer offers an exhaust flap remote-controlled device.
For more details make sure you check out our category Exhaust Flap Control
BMW M3 G80: dÄHLer HP High-Performance Exhaust
BMW M3 G80: dÄHLer RedLine Exhaust
Exhaust Sound & Installation Video
BMW M3 G80: Exhaust Flap/Valve Control
Our Exhaust Flap Control Module for the BMW M3 and M3 Competition was developed in Switzerland and manufactured in Germany and is a must have if you like really to control the sound of your M3.
Read more
You may think your BMW M exhaust button will open the exhaust valves of your BMW M3 -> 100% and all the time but that's not the case!
With the dAHLer Valve Controller installed you can manually open and close the standard built-in exhaust valves of your BMW M3 and M3 Competition G80 Sedan at any time. It operates at the push of a button on the in delivery included remote control or can be programmed to your mirror buttons, so the system will be very well integrated.
Installation of our Exhaust Valve Controller X in your BMW M3 G80 can be carried out by anyone with a manual skill. The device is a direct plug in to the existing (OEM) harness. You pull out the original plug and connect it to the socket. The other plug is then connected to the socket on the exhaust flap and the connection is done.
The complete installation takes place in the trunk or under-body. You look for a cable duct or unused sealing plug that leads from the inside to the outside. Power supply comes directly from the original plugs and there is no need to lay cables through the interior of the vehicle.
With our smart Exhaust Control Module, one cannot close the exhaust flap permanently. This is for safety reasons as when driving at full throttle with the exhaust valve closed it could damage the engine in a long term.
Flap Control X 
(Extra Features)
Start mode adjustable via remote control or you can use a memory function for the last setting of your exhaust valves.
dÄHLer Sound-Plus-Kit all BMW G8x M3 M4 for stock exhaust
A dAHLer Sound-Plus-Kit for the stock exhaust of the BMW M3 G80 G81 and M4 G82 G83 will boost the sound of your stock exhaust up to 9 DB.
Read more
Our bespoke H-pipe in conjunction with our Valve Controller that opens the stock valves 100% at all driving modes, speeds, and RPM unlocks a senor tone out of the stock exhaust
system and enhances the burbles in Sport Plus Mode. You will hear a noticeable difference in sound but still be perfectly livable for daily driving!
This is a great first mod on anyone's journey in the aftermarket world and for those who unsure to go with a complete new exhaust system.
Made from high quality stainless steel in a compact size this Sound-Plus-Kit can be easily shipped worldwide.
True to the motto: Exact like a Swiss clockwork, the dAHLer Sound-Plus-Kit for all BMW M3 G80 G81 and M4 G82 G83 for the stock exhaust system meets the highest demands in optics and fitting accuracy. A great success for us that it's extremely lightweight at maximum strength. It weights only 6.4 kg (12.8 lbs)
The installation time is approx. 2 hours and the new sound of your stock M car with the dAHLer Sound-Plus-Kit underlines the high-tech character of your M.  While it is possible to install this part on your own, it is highly recommended that you use a professional. dAHLer will not be responsible for poor installation practices. We recommend having the assembly carried out by a professional car workshop or BMW dealership.
Exhaust Valve Controller X Installation Video -> Exhaust Valves don't open 100% stock!
Exhaust Flap Controller Installation Video & Stock Exhaust Sound / Driving Video
Exhaust Flap Controller Stock Exhaust – Quick Sound Check
We ship worldwide!
Give us a call or drop us an email to learn about what we can offer to customize your BMW M3.
Get in touch with us
Do you have an order, product or customer service question for us?
Are you interested in a personal quotation?
Are you looking for a dealer or an installer?
Email
Please use our contact form.
Phone
+49 (0) 6831 – 69 850 80
+49 (0) 6831 – 69 850 81
Our operating hours are
Monday – Thursday
08:30 am – 12:00 pm CET
01:30 pm – 04:00 pm CET
Friday
08:30 am – 12:00 pm CET
01:30 pm – 03:30 pm CET
Address
We are physically located in Saarlouis, Germany