BMW 2 series M235i xDrive F44 Tuning
THE 2 – BMW 2 series M235i xDrive F44 Tuning
BMW M235i xDrive F44 by dAHLer Competition Line
The new BMW M235i xDrive F44 Gran Coupe does not have to hide from its class competitors and is a next-level Gran Coupe. With its impressive appearance through larger air vents and aggressive front and rear bumpers it's the perfect base car for further upgrades.
Customize your BMW M235i xDrive F44 Gran Coupe with gigantic 20-inch ultra-light FORGED wheels and a stainless-steel performance exhaust system with flap-controlled outlets and unleash up to 347 hp with the available dAHLer Competition Line upgrade and dominate the road with your BMW 235i xDrive Gran Coupe.
THE 2 – BMW 2 series M235i xDrive F44: Engine Performance Tuning
QUICK FACTS
Max HP gain:
41 hp / 30 kW
Max Torque gain:
85 Nm / 63 ft-lbs
Approval:
WLTP-E6d-temp tested and EU/CH
homologated by the German TUV
Read more - Tuning for F44 M235i xDrive
THE 2 – BMW 2 series M235i xDrive F44
M235i xDrive based on 306 hp (225 kW), 450 Nm (lb-ft 332):
Enhanced power: 347 hp (255 kW), 535 Nm (395 ft-lbs)
based on 98 octane gas rating
– WLTP-E6d-temp tested and EU/CH homologated by the German TUV
– Engine Performance Tuning Module includes wiring harness
FEATURES
– Power gains of up to 41 hp to the wheels on a stock vehicle
– Quick Plug & Play Installation (less than 45 min)
– Runs as smoothly as stock, this is how your M235i should have come from the factory
– Compatible with all driving modes
– Fuel economy unchanged during normal driving
– Ethanol (E93 or less) compatible tuning maps
– Not VIN locked, can be removed without a trace and resold down the road
– Developed in Switzerland, manufactured in Germany
– Worldwide 3-year product warranty
Learn more - App Control
App Control
Controlling of the dAHLer Engine Performance Upgrade via your smartphone is just one of the awesome features of our tuning module.
With our tuning module you have the option to choose your own and fully customizable driving program. Wirelessly connect the dAHLer engine tuning performance module to your Bluetooth 4.0 compatible iOS and Android device via the free dAHLer Mobile app.
This option allows you to change 3 different performance maps, and update the firmware worldwide as we release free newer versions with updates, more powerful maps. If desired the extra power can be easily switched on or off with your smartphone, even while driving.
Our app includes a configurable warm-up timer, so the pilot can decide how long warming up is needed before using the engine tuning. A separate Mobile app purchase is not required!
We will provide you the app after the purchase of our engine performance upgrade free of charge.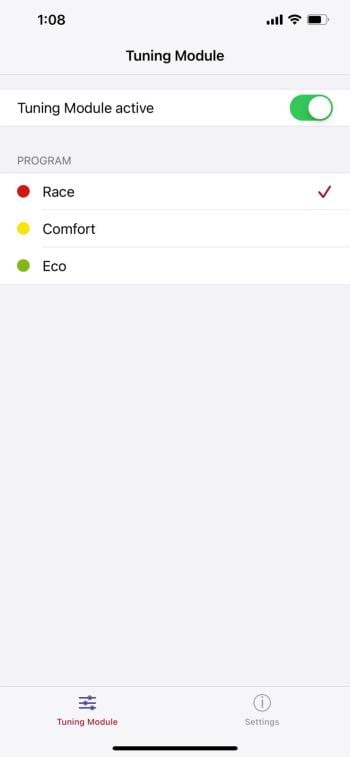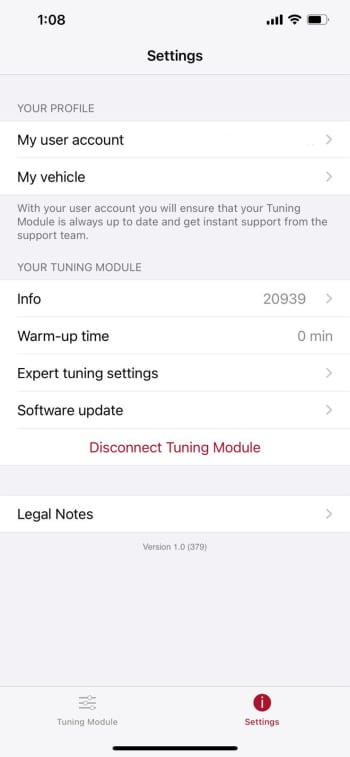 Learn More - About our technology
DESCRIPTION
Our Engine Performance Tuning Module for the BMW 2 series M235i xDrive integrates flawlessly to extract maximum power and torque without faults and errors – just flawless. The harness has OEM style plugs to connect in-line with each boost pressure sensor and the camshaft position sensor on the engine.
Our Engine Performance Tuning Module for the BMW 2 series M235i xDrive is completely reversible to OEM specs and installs in less than 45 minutes just in a few simple steps. This will be a safely upgrade which makes this the easiest and most effective power upgrade you will ever make on your BMW 2 series M235i xDrive F44 Gran Coupe. For a substantial increase in power output, with minimal downtime for installation, full serviceability, and can be reverted back to stock then this Engine Performance Tuning Module power upgrade is best!
Inside our dAHLer Engine Performance Tuning Module is an advanced control unit that is designed to optimize and work with the factory BMW ECU. The BMW 2 series M235i xDrive maps and algorithms within the control unit have been elevated for this BMW engine, sending improved fuel and ignition parameters to the stock ECU to control boost depending on load, engine speed, and other factors.
Also included in the scope of delivery is an adapter which, when installed, returns the vehicle to its original state without having to remove the cable harness of the dAHLer engine performance upgrade. This can be used, for example, at a workshop appointment.
SAFETY
With our Engine Performance Tuning Module all of the factory safeguards of your BMW M235i xDrive Gran Coupe remain in place, including overload protection and warm-up protocols to preserve longevity and factory drive-ability. One of the amazing advantages of this type of system is that it is unaffected by factory BMW updates and service.
If BMW updates the computer software of the BMW F44 Gran Coupe, our Engine Performance Tuning Module is not lost or overwritten. This is where competitor tuning modules fall short! This is just another key aspect of our module because BMW is constantly releasing small software updates. All of the factory diagnostics and service access is retained.
The Performance Tuning Module for the F44 Gran Coupe is undetectable to plug-in diagnostic readers and it leaves no traces behind. A valet connector is included and installs in minutes to bypass the Engine Performance Tuning Module and revert the car to factory settings. With the valet plug installed the BMW engine computer will use the stock maps instead of getting modified data from the Engine Performance Tuning Module.
THE 2 – BMW 2 series M235i xDrive F44: EVENTURI Carbon Intake
Acceleration Time:
95 km/h – 210 km/h -> 60 -130 mph reduced by 0.5 seconds
Read more - BMW 2 series F44 M235i xDrive: EVENTURI Carbon Intake
Eventuri intake system for the BMW 2 series M235i xDrive F44 Gran Coupe was developed through extensive real world testing and airflow simulation analysis.
Eventuri intake has been developed to provide the turbo of the F44 M235i xDrive with a less restrictive flow path whilst maintaining low inlet temperatures.
Crafted from Prepreg Carbon Fiber, the airbox serves 2 objectives – to seal the filter against engine bay heat and to provide a dual cold air feed.
The filter housing comprises of the bespoke generation 2 filter, aluminium inlet cowl, stainless steel bracket and the integrated MAF section. The carbon pod shrouds the reverse mounted filter and smoothly shapes the airflow down to the MAF section which then connects to the stock inlet tube. This changes the flow path of your BMW 2 series M235i xDrive F44 Gran Coupe from the OEM airbox where airflow enters the front of the airbox, changes direction by 90 degrees to travel through the panel filter and then changes direction again by 90 degrees to move through the MAF section.
Couple the dAHLer engine performance tuning increase for the BMW 2 series M235i xDrive F44 Gran Coupe with a more audible and sonorous induction sound and the overall driving experience is much more involving and more fun.
THE 2 – BMW 2 series M235i xDrive F44: Coilover Suspension
If you are looking for the next level of suspension performance for your BMW 2 series M235i xDrive F44 Gran Coupe, dAHLer's coilovers with adjustable ride height is the answer.
Read more - BMW 2 series F44 M235i xDrive: Coilover Suspension
Height adjustment from 35 to 55 mm (1.4″ to 2.2″) vehicle lowering. Rust-free stainless-steel design, sporty and comfortable in the normal range, appealingly tense in the threshold.
In a vehicle, shock absorbers reduce the effect of traveling over rough ground, leading to improved ride quality and vehicle handling. While shock absorbers serve the purpose of limiting excessive suspension movement, their intended sole purpose is to damp spring oscillations.
The dAHLer performance coilover kit for your BMW 2 series M235i xDrive F44 Gran Coupe offers a sporty, adjustable suspension with significant performance advantages, in which high-quality materials and coatings are used to replace your worn suspension, while your vehicle receives the perfect ride height!
Due to its height-adjustability, the perfect setting for what you want to do is possible with our Coil Over Suspension system for your BMW.
THE 2 – BMW 2 series M235i xDrive F44: FORGED Wheel Set
The true greatness for the BMW 2 series M235i xDrive F44 Gran Coupe
Where others draw a final Line at 19″, dAHLer provides your BMW 2 series M235i xDrive F44 Gran Coupe the finishing touch with the exclusive ultra-light 20″ FORGED wheel dAHLer CDC1 FORGED.
Learn More - About FORGED Wheels
dAHLer has designed a wheel which meets the highest demands with maximum strength and at the same time the lowest weight.
The wheel is aesthetically optimally integrated into the overall appearance of the BMW 2 series Gran Coupe and thus supports the powerful appearance in a harmonious way due to its optimal size.
So, give your M235i xDrive something to set apart from the crowd with a 20 inch dAHLer wheel and tire package for your 2 series Gran Coupe.
FORGED WHEEL ADVANTAGES AT A GLANCE:
30% to 35% weight saving compared to conventional light alloy wheels
significantly improved longitudinal and lateral dynamics
significantly improved acceleration and deceleration values due to the lower accelerated mass
improved and more agile handling/steering behavior
high-quality paint (powder coating) for perfect protection of the forged wheel surface
large selection of individual surface colors, with integrated FORGED and dAHLer lettering
THE 2 – BMW 2 series M235i xDrive F44: Pedal Sets
dAHLer matt aluminum pedal pads for BMW 2 series M235i xDrive F44
Learn More - About Pedal Set
dAHLer matt aluminum pedal pads for BMW with Manual, SMG or Automatic Transmission are a visually appealing and functional addition to the vehicle interior.
A dAHLer matt aluminum pedal set for BMW cars is a direct replacement for the original rubber pedal pads and are a perfect complement to the BMW interior finish and trim.
The pronounced rubber profiles on the gas, brake or clutch pedals offer a firm hold and protect against slipping.
dAHLer aluminum pedal pads for BMW feature a brushed matt aluminum surface with raised rubber inserts. Depending on the transmission the dAHLer pedal cover kit includes aluminum clutch, brake, and accelerator pedals that are screwed to the stock pedal assemblies (flush-fit hardware included).
The clutch pedal is not used on the SMG and DCT-equipped models.
The dAHLer aluminum brake or clutch pedal pad is screwed to the standard pedal using 4 screws and nuts. The accelerator pedal pad is attached to the series pedal with 3 plastic self-tapping screws.
The asymmetrical and three-dimensional design of the rubber profiles give the foot-well a dynamic character.
THE 2 – BMW 2 series M235i xDrive F44: Floor Mats
dAHLer Floor Mats for BMW 2 series M235i xDrive F44
Learn More - About Floor Mats
dAHLer floor mats deluxe edition in black tuft velour
fiber material 100% polyamide, backing latex-fine-
profile for excellent grip, high-quality appearance
includes all necessary holders and attachment parts
The dAHLer floor mats give the vehicle an individual
sporty touch even in the foot area.
With Logo and lettering
Set consisting of:
Two floor mats front with dAHLer logo and lettering
Two floor mats rear
Note:
The vehicle type must be specified before ordering
For Left Hand Drive cars only
We ship worldwide!
Give us a call or drop us an email to learn about what we can offer to customize your BMW car.