BMW M4 Competition G82 Tuning
BMW M4
&

Competition G82 Tuning
THE ALL-NEW BMW M4 COUPE G82
Increase your beats per minute with the 612 hp dAHLer performance increased all-new BMW M4 Competition Coupe G82. Our cat-back exhaust system will blow you away with an awesome sound which has to be experienced.
Our engine performance upgrades and cat-back exhaust system work with cars after production 06/2020 as well for xDrive and RWD models.
BMW M4 Competition: Engine Performance Tuning
QUICK FACTS
EU Version -> US Version
Max HP gain:        
102 hp (75 kW) -> 102 hp US
Max Torque gain:
100 Nm -> 66 ft-lbs US
Standard power:
510 hp (375 kW) -> 503 hp US
650 Nm -> 479 ft-lbs US
Enhanced power: 
612 hp (450 kW) -> 605 hp US
750 Nm -> 545 ft-lbs US
Based on 98 octane -> 93 octane US
Features - Engine Upgrade
FEATURES
Works with cars before and after production 06/2020
No removal of the DME required
Controlling of the Performance Tuning via your smartphone
Quick Plug & Play Installation
Runs as smoothly as stock, this is how your BMW should have come from the factory
Compatible with all driving modes
Fuel economy unchanged during normal driving
93 octane or less compatible tuning maps
Not VIN locked, can be removed without a trace and resold down the road
Developed in Switzerland and Made in Germany
Tested on the German Autobahn
Comes with TUV Part Approval (emission tests according to WLTC regulations)
USA -> EPA compliant
Worldwide 3-year product warranty
Learn more - App Control
App Control
Controlling of the dAHLer Engine Performance Upgrade for the BMW M4 and M4 Competition G82 Coupe via your smartphone is just one of the awesome features of our tuning module.
With our tuning module you have the option to choose your own and fully customizable driving program. Wirelessly connect the dAHLer engine tuning performance module to your Bluetooth 4.0 compatible iOS and Android device via the free dAHLer Mobile app.
This option allows you to change 3 different performance maps, and update the firmware worldwide as we release free newer versions with updates, more powerful maps. If desired the extra power can be easily switched on or off with your smartphone, even while driving.
Our app includes a configurable warm-up timer, so the pilot can decide how long warming up is needed before using the engine tuning. A separate Mobile app purchase is not required!
We will provide you the app after the purchase of our engine performance upgrade free of charge.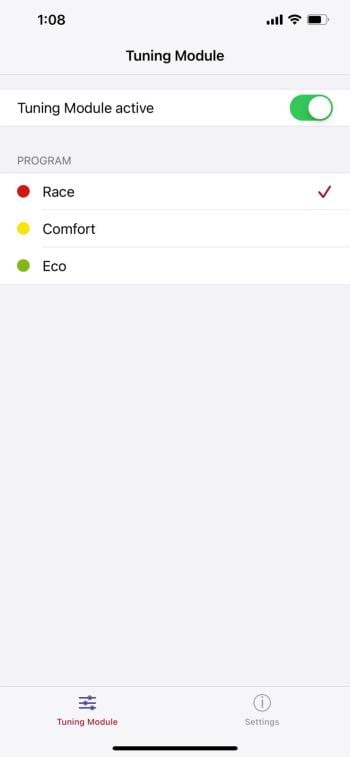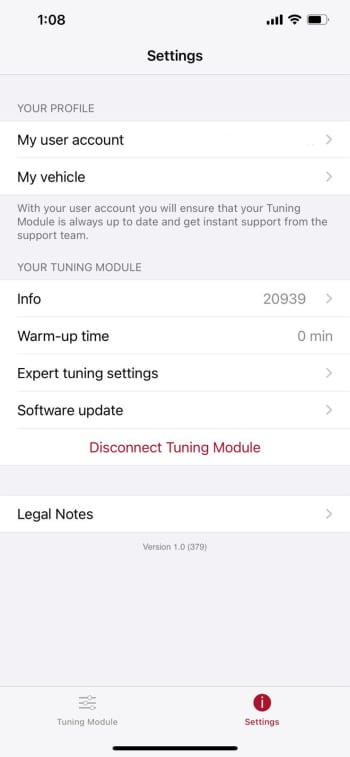 Learn More - About our technology
DESCRIPTION – We don't push it over the limits!
Our Engine Performance Tuning Module for the BMW M4 and M4 Competition G82 Coupe integrates flawlessly to extract maximum power and torque without faults and errors – just flawless. The harness has OEM style plugs to connect in-line with each boost pressure sensor, camshaft position sensor, and rail pressure sensor on the engine.
The dAHLer Engine Performance Tuning Module for the BMW M4 and M4 Competition G82 Coupe is completely reversible to OEM specs and installs in about 1 hour just in a few simple steps. This will be a safely upgrade which makes this the easiest and most effective power upgrade you will ever make on your BMW M4 G82 Coupe. For a substantial increase in power output, with minimal downtime for installation, full serviceability, and can be reverted back to stock then this dAHLer Engine Performance Tuning Module power upgrade is best!
Inside our dAHLer Engine Performance Tuning Module is an advanced control unit that is designed to optimize and work with the factory BMW ECU. BMW M4 G82 maps and algorithms within the control unit have been elevated for this BMW engine, sending improved fuel and ignition parameters to the stock ECU to control boost and rail pressure depending on load, engine speed, and other factors.
Also included in the scope of delivery is an adapter which, when installed, returns the vehicle to its original state without having to remove the cable harness of the dAHLer engine performance upgrade. This can be used, for example, at a workshop appointment.
SAFETY
With our Engine Performance Tuning Module all of the factory safeguards of your BMW M4 G82 remain in place, including overload protection and warm-up protocols to preserve longevity and factory drive-ability. One of the amazing advantages of this type of system is that it is unaffected by factory BMW updates and service.
If BMW updates the computer software, our Engine Performance Tuning Module is not lost or overwritten. This is where competitor tuning modules fall short! This is just another key aspect of our module because BMW is constantly releasing small software updates. All of the factory diagnostics and service access is retained.
The Performance Tuning Module is undetectable to plug-in diagnostic readers and it leaves no traces behind. A valet connector is included and installs in minutes to bypass the Engine Performance Tuning Module and revert the car to factory settings. With the valet plug installed the BMW engine computer will use the stock maps instead of getting modified data from the Engine Performance Tuning Module.
BMW M4 & M4 Competition: Cat-Back Exhaust System
We offer a performance cat-back exhaust for the BMW M4 G82 Coupe with a sound that has to be experienced. Works with xDrive models.
An addition to our exceptional performance upgrades for your BMW M4 G82 is the dAHLer performance exhaust system, taking it to the next level.
Learn More - About Exhaust System
You're looking for a high-quality German-made stainless steel performance exhaust system with exhaust flap for your BMW M4 and M4 Competition G82 Coupe?
Our dAHLer performance exhaust systems for the BMW M4 G82 is handcrafted from high quality 1.4301 stainless steel and are Made in Germany by a team of specialists at an ISO 9001:2015 certified facility.
No check engine lights, no re-programming of your car or anything silly is required after installation. The dAHLer exhaust system for the M4 G82 is compatible with xDrive, RWD, left and right hand drive models as well as cars with and without OPF.
Approved  and tested by the German TUV this system comes with a European Homologation according to the latest emission standards and is EPA compliant (USA).
Rolling legit with a high-class exhaust system with an awesome sound makes the difference to our competitors.
The dAHLer performance exhaust system for the BMW M4 and M4 Competition G82 Coupe comes with a high-performance muffler and double exhaust flap system with no drone on the highway of a much more aggressive sound then the stock muffler but still be perfectly livable for daily driving.
Not only do we engineer our valve-controlled performance mufflers to sound good we engineer the performance exhaust systems that fit your BMW M4 G82 properly for a much easier installation.
Designed to mount using the factory BMW M4 G82 exhaust hangers, the dAHLer performance exhaust system is a bolt-on replacement for the OEM version. To help reduce the time you spend installing the dAHLer performance exhaust system on your BMW M4, slip-fit joints are included to make fitment as easy as possible. Our quad or double exhaust tips are designed to fit the stock BMW M diffuser.
The dAHLer performance exhaust system for the BMW M4 G82 Coupe includes a high-flow, valve controlled, stainless-steel performance muffler, and is available as a cat-back system.
The dAHLer exhaust system for the BMW M4 G82 is here to improve your driving experience with an awesome sound and a noticeable bump in performance.
Under normal driving conditions, our valve-controlled performance muffler stays closed, and the dAHLer exhaust system for the BMW M4 and M4 Competition G82 Coupe is quite unassuming and nobody will really even suspect your car even has an aftermarket performance exhaust system or muffler. But, when you open up the throttle, the valve-controlled system opens up the exhaust flaps, and our performance exhaust system gives your BMW M4 a powerful menacing growl.
For those who want to be fully in command of the exhaust sound at any time and get the race car like feeling, dAHLer offers an exhaust flap remote-controlled device.
For more details make sure you check out our category Exhaust Flap Control
Sound & Installation Video
BMW M4 G82: Exhaust Flap/Valve Control
Our Exhaust Flap Control Module for the BMW M4 and M4 Competition G82 Coupe was developed in Switzerland and manufactured in Germany and is a must have if you like really to control the sound of your M4.
Learn More - About Exhaust Flap Control
You may think your BMW M exhaust button will open the exhaust flaps of your BMW M4 -> 100% and all the time but that's not the case!
With the dAHLer controller installed you can manually open and close the standard built-in exhaust flap of your BMW M4 and M4 Competition G82 Coupe at any time. It operates at the push of a button on the in delivery included remote control or can be programmed to your mirror buttons, so the system will be very well integrated.
Installation of our Exhaust Flap Control Module in your BMW M4 G82 can be carried out by anyone with a manual skill. The device is a direct plug in to the existing (OEM) harness. You pull out the original plug and connect it to the socket. The other plug is then connected to the socket on the exhaust flap and the connection is done.
The complete installation takes place in the trunk or under-body. You look for a cable duct or unused sealing plug that leads from the inside to the outside. Power supply comes directly from the original plugs and there is no need to lay cables through the interior of the vehicle.
With our smart Exhaust Control Module, one cannot close the exhaust flap permanently. This is for safety reasons as when driving at full throttle with the exhaust flap closed it could damage the engine in a long term.
You can choose between 2 options
Flap Control S (this option is not available in the US)
(Standard)
You can switch the exhaust flap to OPEN permanently and back to STOCK function   with the 2-button remote control.
With the OPEN function the flap stays open until you either close it via remote or turn off engine. With the STOCK function the BMW engine control unit takes over the opening and closing. The start setting is predefined to STOCK and cannot be changed.
Flap Control X (this option is available in the US)
(Extra Features)
In addition, Stage 2 has the functions of Stage 1 and the following:
Start mode adjustable via remote control or you can use a memory function for the last setting of your exhaust flaps.
We ship worldwide!
Give us a call or drop us an email to learn about what we can offer to customize your BMW car.