Description
BMW X3 M40i Exhaust & X4 M40i Axle-Back Exhaust – (Cat-Back EU Models)
Experience the dÄHLer RedLine Exhaust Line – For those who want a little more
A dÄHLer RedLine exhaust system for the BMW X3 M40i and X4 M40i fits models before as well as LCI models and comes with a high-performance muffler with four outlets and one additional exhaust valve with a much more aggressive sound then the stock exhaust system but still be perfectly livable for daily driving.
The dÄHLer RedLine exhaust system includes a high-flow, double valve controlled, stainless-steel performance muffler and comes if desired with our Valve Controller X with memory and startup mode (only package deal -> select VC2) for those who want to be fully in command of the exhaust sound. One additional original BMW actuator and connecting cable is included in delivery (operation of exhaust valves is unchanged).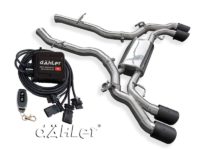 dÄHLer RedLine is the most aggressive sounding performance exhaust system that dÄHLer offers for the BMW X3 G01 and X4 M40i G02, yet still provide no drone at highway speeds.
You have exhaust tip options you can choose:
Two matte carbon double round exhaust tips left and right 101 mm / 3.94 inches each -> | Without logo | dÄHLer silver shadow logo | dÄHLer red shadow logo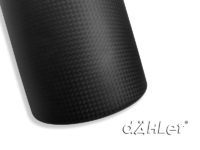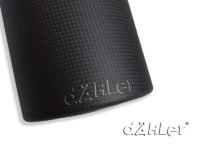 Our exhaust system for the BMW X3 M40i G01 and X4 M40i G02 (including LCI models) is here to improve your driving experience with an awesome sound and a noticeable bump in performance.
Under normal driving conditions, our double valve controlled performance muffler stays closed (stock), as operation of the exhaust valves is unchanged and the dÄHLer performance exhaust system is quite unassuming. But, when the valve controlled system opens both exhaust valves, the system gives your BMW X3 M40i and X4 M40i that menacing growl.
Other
No check engine lights, no re-programming of your car or anything silly is required after installation of our exhaust system. All dÄHLer exhaust systems are compatible with ALL BMW X3 M40i G01 and X4 M40i G02 models including LCI models and are EPA compliant (USA).
When you are interested in more HP for your M40i make sure to check our the category Gasoline Engine Tuning