THE X2 – BMW X2 F39 Tuning
BMW X2 F39 by dAHLer Competition Line
dAHLer Competition Line offers a broad range of BMW tuning performance products for the BMW X2 F39. Engine tuning performance upgrades with app control, lowering kits, exhaust flap controller with remote and other high-performance tuning components will transform your stock BMW X2 into a true Ultimate power driving machine.
Our Engine tuning performance upgrades work with cars before and after production 06/2020!
BMW M35i: Engine Performance Tuning
QUICK FACTS
EU Version -> US Version
Max HP gain:        
41 hp (30 kW) -> 39 hp US
Max Torque gain:
85 Nm -> 63 ft-lbs US
Standard power:
306 hp (225 kW) -> 301 hp US
450 Nm -> 332 ft-lbs US
Enhanced power: 
347 hp (255 kW) -> 340 hp US
535 Nm -> 395 ft-lbs US
Based on 98 octane -> 93 octane US
Features - Engine Upgrade
FEATURES
Works with cars before and after production 06/2020
No removal of the DME required
Controlling of the Performance Tuning via your smartphone
Quick Plug & Play Installation
Runs as smoothly as stock, this is how your BMW should have come from the factory
Compatible with all driving modes
Fuel economy unchanged during normal driving
93 octane or less compatible tuning maps
Not VIN locked, can be removed without a trace and resold down the road
Developed in Switzerland and Made in Germany
Tested on the German Autobahn
Comes with TUV Part Approval (emission tests according to WLTC regulations)
USA -> EPA compliant
Worldwide 3-year product warranty
App Control
App Control
Controlling of the dAHLer Engine Performance Upgrade via your smartphone is just one of the awesome features of our tuning module.
With our tuning module you have the option to choose your own and fully customizable driving program. Wirelessly connect the dAHLer engine tuning performance module to your Bluetooth 4.0 compatible iOS and Android device via the free dAHLer Mobile app.
This option allows you to change 3 different performance maps, and update the firmware worldwide as we release free newer versions with updates, more powerful maps. If desired the extra power can be easily switched on or off with your smartphone, even while driving.
Our app includes a configurable warm-up timer, so the pilot can decide how long warming up is needed before using the engine tuning. A separate Mobile app purchase is not required!
We will provide you the app after the purchase of our engine performance upgrade free of charge.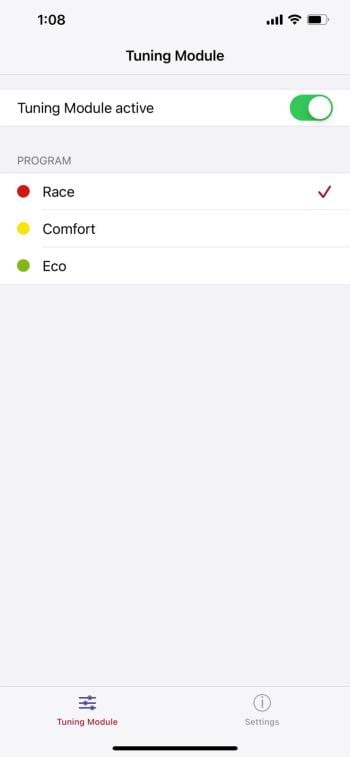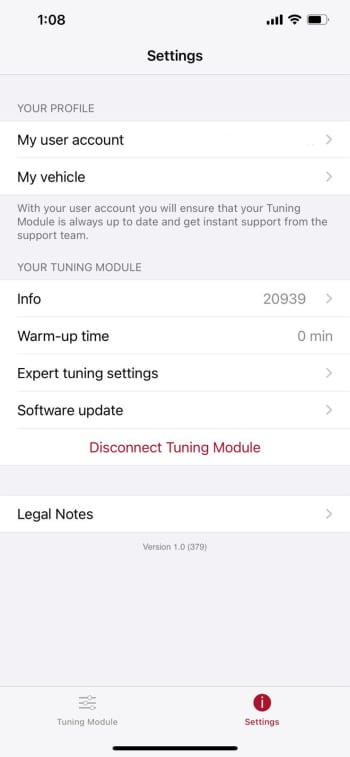 About our technology
DESCRIPTION
Our Engine Performance Tuning Module for the BMW X2 F39 (M35i, xDrive28i, SDrive28i, xDrive20i, sDrive20i) integrates flawlessly to extract maximum power and torque without faults and errors – just flawless. The harness has OEM style plugs to connect in-line with each boost pressure sensor and the camshaft position sensor on the engine.
Our Engine Performance Tuning Module for the BMW X2 F39 (M35i, xDrive28i, SDrive28i, xDrive20i, sDrive20i) is completely reversible to OEM specs and installs in less than 45 minutes just in a few simple steps. This will be a safely upgrade which makes this the easiest and most effective power upgrade you will ever make on your BMW X2. For a substantial increase in power output, with minimal downtime for installation, full serviceability, and can be reverted back to stock then this Engine Performance Tuning Module power upgrade is best!
Inside our dAHLer Engine Performance Tuning Module is an advanced control unit that is designed to optimize and work with the factory BMW ECU. The BMW X2 F39 (M35i, xDrive28i, SDrive28i, xDrive20i, sDrive20i) maps and algorithms within the control unit have been elevated for this BMW engine, sending improved fuel and ignition parameters to the stock ECU to control boost depending on load, engine speed, and other factors.
Also included in the scope of delivery is an adapter which, when installed, returns the vehicle to its original state without having to remove the cable harness of the dAHLer engine performance upgrade. This can be used, for example, at a workshop appointment.
SAFETY
With our Engine Performance Tuning Module all of the factory safeguards of your BMW X2 F39 remain in place, including overload protection and warm-up protocols to preserve longevity and factory drive-ability. One of the amazing advantages of this type of system is that it is unaffected by factory BMW updates and service.
If BMW updates the computer software of the BMW X2 F39 (M35i, xDrive28i, SDrive28i, xDrive20i, sDrive20i) , our Engine Performance Tuning Module is not lost or overwritten. This is where competitor tuning modules fall short! This is just another key aspect of our module because BMW is constantly releasing small software updates. All of the factory diagnostics and service access is retained.
The Performance Tuning Module for the BMW X2 F39 (M35i, xDrive28i, SDrive28i, xDrive20i, sDrive20i) is undetectable to plug-in diagnostic readers and it leaves no traces behind. A valet connector is included and installs in minutes to bypass the Engine Performance Tuning Module and revert the car to factory settings. With the valet plug installed the BMW engine computer will use the stock maps instead of getting modified data from the Engine Performance Tuning Module.
THE X2 – BMW X2 F39 M35i: Eventuri Intake
Fitment for BMW X2 M35i F39
Acceleration Time:
60 -130 mph Reduced By 0.2 seconds
Read More
Eventuri intake system for the BMW X2 M35i F39 was developed through extensive real world testing and airflow simulation analysis.
Eventuri intake has been developed to provide the turbo with a less restrictive flow path whilst maintaining low inlet temperatures.
Crafted from Prepreg Carbon Fiber, the airbox serves 2 objectives – to seal the filter against engine bay heat and to provide a dual cold air feed.
The filter housing comprises of our bespoke generation 2 filter, aluminium inlet cowl, stainless steel bracket and the integrated MAF section. The carbon pod shrouds the reverse mounted filter and smoothly shapes the airflow down to the MAF section which then connects to the stock inlet tube. This changes the flow path from the OEM airbox where airflow enters the front of the airbox, changes direction by 90 degrees to travel through the panel filter and then changes direction again by 90 degrees to move through the MAF section.
Couple the dAHLer engine performance tuning increase with a more audible and sonorous induction sound of your BMW X2 M35i F39 and the overall driving experience is much more involving and more fun.
THE X2 – BMW X2 F39: Exhaust Flap/Valve Control
Developed for real BMW M enthusiasts and for those who go on race tracks, our Exhaust Flap / Valve Control Module with remote control for the BMW X2 F39 the right choice.
It operates at the push of a button on the in delivery included remote control.
Exhaust Flap Control
Our Exhaust Flap / Valve Control Module for the BMW X2 M35i xDrive28i sDrive28i xDrive25i xDrive20i has one plug and one socket per exhaust flap. Installation is pretty simple. You pull out the original plug and connect it to the socket. The other plug is then connected to the socket on the exhaust flap and the connection is done.
As our Exhaust Flap / Valve Control Module operates as minimally in the vehicle as necessary, it does not does not leave an error message. When the BMW X2 M35i xDrive28i sDrive28i xDrive25i xDrive20i goes to the BMW workshop for maintenance, no errors appear on the DIS machine.
The system has been checked and is it not causing any damage to the BMW X2 M35i xDrive28i sDrive28i xDrive25i xDrive20i. Each of our systems is individually checked for function after assembly and subjected to quality assurance. All Modules are made in Germany by a team of specialists at an ISO 9001:2015 certified facility.
Exhaust Flap / Valve Control Module for the BMW X2 M35i xDrive28i sDrive28i xDrive25i xDrive20i is built to be safe from the ground up, so that it cannot interfere with the data bus, for example.
The Module is permanently resistant up to +80° C (176° F). As a rule, you don't need any additional heat protection.
Exhaust Flap Controller Installation Video
THE X2 – BMW X2 F39: Performance Lowering Kit
Performance Lowering Springs are the first step in suspension performance enhancement. A dAHLer lowering kit for the BMW X2 F39 is a performance spring set created for the serious enthusiast.
A sports spring set with the lowest possible drop but with the exceptional ride quality you expect from a high-class tuner like dAHLer.
Lowering Kit
Using progressive spring technology to lower the vehicle's center of gravity.
This proprietary progressive design delivery, both a smooth softer initial spring rate for exceptional ride quality combined with a stiffer final rate for high performance handling of your BMW X2 F39.
The benefits of a lower stance are many. Let's begin with the performance advantages of a dAHLer sports spring set installed in your BMW X2 F39.
A dAHLer lowering spring equipped BMW X2 F39 will exhibit reduced body roll in corners as well as reduce squat during acceleration and diminish nosedive under braking.
Another performance advantage that is often overlooked is the reduced drag coefficient. A dAHLer sports spring set for the BMW X2 F39 cars provides the ultimate balance between high performance, extreme lowering and comfortable ride quality.
THE X2 – BMW X2 F39:
Complete 20" Wheel and Tire Package
Modern BMW cars typically come with these heavy stock alloy wheels. Even when you have spent lots of money on better BMW accessory wheel & tire packages, most of the people won't recognize the difference as they simply think those wheels come from factory anyhow. It needs a real BMW enthusiast to tell the difference.
So, how to make a difference?
20'' Alloy Wheel Sets
High-class dAHLer light alloy wheel and tire sets in 21 inches for your BMW X2 F39 stand for innovation and individuality and therefore are dAHLer wheel and tire sets the perfect match and the complete solution for modern BMW cars such as the BMW X2 F39 and the real enthusiast who likes to think individually.
So, give your BMW X2 F39 something to set apart from the crowd with a dAHLer 21 inch wheel and tire package.
dAHLer light alloy wheel and tire packages in 21 inches for your BMW X2 F39 are not only much more attractive than most of the heavy stock BMW alloy wheel and tire sets they are mostly lighter and therefore require less energy to rotate. dAHLer light alloy wheel and tire sets in 21 inches give you many performance advantages over the heavy stock BMW alloy wheel and tire packages, which contributes to a better handling, better acceleration, and better braking of your BMW X2 F39.
You can find a large selection of colors in the category -> Wheel and Tires Sets
THE X2 – BMW X2 F39: Pedal Sets
dAHLer matt aluminum pedal pads for BMW X2 F39
Pedal Set
dAHLer matt aluminum pedal pads for BMW with Manual, SMG or Automatic Transmission are a visually appealing and functional addition to the vehicle interior.
A dAHLer matt aluminum pedal set for BMW cars is a direct replacement for the original rubber pedal pads and are a perfect complement to the BMW interior finish and trim.
The pronounced rubber profiles on the gas, brake or clutch pedals offer a firm hold and protect against slipping.
dAHLer aluminum pedal pads for BMW feature a brushed matt aluminum surface with raised rubber inserts. Depending on the transmission the dAHLer pedal cover kit includes aluminum clutch, brake, and accelerator pedals that are screwed to the stock pedal assemblies (flush-fit hardware included).
The clutch pedal is not used on the SMG and DCT-equipped models.
The dAHLer aluminum brake or clutch pedal pad is screwed to the standard pedal using 4 screws and nuts. The accelerator pedal pad is attached to the series pedal with 3 plastic self-tapping screws.
The asymmetrical and three-dimensional design of the rubber profiles give the foot-well a dynamic character.
THE X2 – BMW X2 F39: Floor Mats
dAHLer Floor Mats for BMW X2 F39
Floor Mats
dAHLer floor mats deluxe edition in black tuft velour
fiber material 100% polyamide, backing latex-fine-
profile for excellent grip, high-quality appearance
includes all necessary holders and attachment parts
The dAHLer floor mats give the vehicle an individual
sporty touch even in the foot area.
With Logo and lettering
Set consisting of:
Two floor mats front with dAHLer logo and lettering
Two floor mats rear
Note:
The vehicle type must be specified before ordering
For Left Hand Drive cars only
We ship worldwide!
Give us a call or drop us an email to learn about what we can offer to customize your BMW X car.