Description
Lowering Springs M3 M4 G80 G81 G82 G83 (all)
A dAHLer sport spring set for BMW M car G80 G81 G82 G83 is a performance spring set created for the serious enthusiast.
Lowering Springs M3 M4 with the lowest possible drop but with the exceptional ride quality you expect from a high-class tuner like dAHLer.
The benefits of a lower stance are many. Let's begin with the performance advantages of a dAHLer sport spring set installed in your G8x M car.
A Lowering Springs M3 M4 equipped BMW M exhibit reduced body roll in corners as well as reduce squat during acceleration and diminish nosedive under braking.
Using progressive spring technology to lower the vehicle's center of gravity. This proprietary progressive design delivery, both a smooth softer initial spring rate for exceptional ride quality combined with a stiffer final rate for high performance handling of your BMW M car G80 G81 G82 G83.
Another performance advantage that is often overlooked is the reduced drag coefficient. Lowering Springs M3 M4 deliver the ultimate balance between high performance, lowering and comfortable ride quality.
It also reduces the excessive fender gap and when combined with our dÄHLer Forged Wheel Set – CDC2 – Smoke Black Edition
21 x   9.5 with 275/25 R21 92Y Michelin Pilot Sport 4 S
21 x 10.5 with 295/25 R21 96Y Michelin Pilot Sport 4 S
the result is a car that handles just as hot as it looks for driving to a whole new level.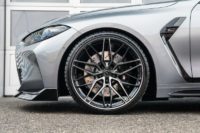 All dAHLer products were thoroughly evaluated on the street, track and unrestricted German Autobahn. It's the drive that pushes racers to the very edge of their abilities, it's the same drive that pushes us to create nothing but the very best.
Each set of our lowering springs M3 M4 is manufactured in Germany at an ISO 9001:2015 certified facility, and tested by the German TUV according to the latest regulations to fulfill the highest safety standards.
Product you might also be interested in CLICK HERE
Arehttp://www.dahlerusa.com you from the US? CLICK HERE