Description
BMW 2024 X5 M Competition – 100 dB + 20 HP (No OPF Model Sound Check)
2024 BMW X5M Competition LCI Exhaust
dÄHLer Sound & Power Plus Exhaust Kit for the 2024 BMW X5M Competition LCI takes it to the next level!
Where has the exhaust sound gone with the new 2024 X5M? dÄHLer brings it back with the newly developed exhaust sound kit boosting 20 HP and hitting 100 dB.
All dÄHLer performance exhaust systems are handcrafted from high quality 1.4301 stainless by a team of specialists at an certified facility and did improve the sound of a stock BMW M.
With the all new 2024 BMW X5 M Competition exhaust things are different and we needed to come up with a new and improved solution, since BMW decided not to make their top dog sound like it should anymore. All of sudden customers get a pretty quite car and miss the matching sound for it. This is when our X5M LCI exhaust kit comes into play.
Results are incredible 100 dB and 20 HP on top with a much quicker response of the car. Impressive 114 mm / 4.5 inches carbon exhaust tips round off the appearance of this impressive truck perfectly.
Our newly developed exhaust kit for the 2024 BMW X5M Competition LCI is here to improve your driving experience with an awesome sound and a noticeable bump in performance.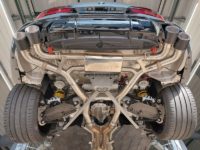 Other
No check engine lights, no re-programming of your car or anything silly is required after installation of our exhaust kit. All dÄHLer exhaust system components for the 2024 BMW X5M Competition LCI are compatible with and without OPF catalytic converter models and are EPA compliant.
For those who want to be fully in command of the stock exhaust sound at any time and get the race car like feeling, dÄHLer offers a valve controller.
If you want more sound and be in control at all times make sure to check out the category Exhaust Valve Controller.
Are you from the USA? Please click here.