Description
BMW M3 Sedan G80 Exhausts
We offer cat-back exhaust systems for the BMW M3 G80 Sedan with a sound that has to be experienced.
An addition to our exceptional performance upgrades for the BMW M3 Sedan G80 are our dÄHLer exhaust systems, taking it to the next level.
You're looking for a high-quality German-made stainless-steel cat-back exhaust system for your BMW M3 Sedan G80 with OPF filter?
dÄHLer High-Performance line will be the right choice.
Approved and tested by the German TUV the High-Performance system comes with a European Homologation according to the latest emission standards and is EPA compliant (USA).
A dAHLer high-performance exhaust systems for the BMW M3 Sedan G80 is handcrafted from high quality 1.4301 stainless steel and are Made in Germany by a team of specialists at an ISO 9001:2015 certified facility.
Experience dÄHLer RedLine – For those who want a little more
A dÄHLer RedLine exhaust system for the BMW M3 G80 Sedan comes with a high-performance muffler and 2 exhaust valves with a much more aggressive sound then the stock muffler but still be perfectly livable for daily driving.
dÄHLer RedLine is the most aggressive sounding performance exhaust system that dÄHLer offers for the G80. What that basically means is this muffler specifically designer on the engineer BMW vehicle to have that aggressive sound, yet still provide no drone at highway speeds.
The dÄHLer RedLine exhaust system comes with a bespoke H-Pipe to replace the stock front resonator (unlocks a smooth tone out of the S58) and includes a high-flow, valve controlled, stainless-steel performance muffler.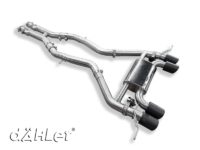 Our RedLine exhaust system for the BMW M3 is here to improve your driving experience with an awesome sound and a noticeable bump in performance.
Under normal driving conditions, our valve-controlled performance muffler stays closed, as operation of exhaust valves is unchanged and the dAHLer RedLine exhaust system is quite unassuming. But, when you open hit the throttle, the valve-controlled system opens up the exhaust valves and our dÄHLer RedLine exhaust system gives your BMW M3 that menacing growl.
Other
No check engine lights, no re-programming of your car or anything silly is required after installation of our exhaust systems. All dÄHLer exhaust systems for the M3 G80 are compatible with xDrive, RWD, left- and right-hand drive models as well as cars with and without OPF catalytic converter.
For those who want to be fully in command of the exhaust sound at any time and get the race car like feeling, dÄHLer offers a valve controller.
If you want more sound for and be in control at all times make sure to check out the category Exhaust Valve Controller.