Description
BMW M2 G87 21 inch FORGED Wheels
– dÄHLer CDC2 design-
– Smoke Black Edition –
Available Wheel Set Dimensions:
21 x   9.5 offset with 275/25 R21 92Y Michelin Pilot Sport 4 S
21 x 10.5 offset with 295/25 R21 96Y Michelin Pilot Sport 4 S
PCD:
5 x 112
Note:
Includes TPMS (tire pressure monitoring system) and dÄHLer wheel add-on kit consisting of
10 mm spacers & matching bolts front
7 mm spacers & matching  bolts rear
Necessary rework on the vehicle:
FA: none
RA: none
Packaging:
Lashed on a pallet
BMW M2 G87 21 inch FORGED wheels – SMOKE BLACK EDITION – The delicacy and the true greatness. Where others draw a final Line at 20″, dÄHLer provides your BMW M car the finishing touch – with the stylish, high-quality, exclusive and ultra-light 21 inch FORGED wheels for the M2 G87. Using state-of-the-art production technology, dÄHLer has designed a wheel named CDC2 which meets the highest demands with maximum strength and at the same time the lowest weight.
The 21 inch forged wheel is aesthetically optimally integrated into the overall appearance of the BMW M2 G87 and thus supports the powerful appearance in a harmonious way due to its optimal size.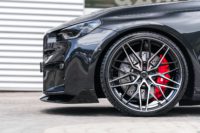 – Made in Germany
– Ultra light FORGED material
– High-quality paint (powder coating) for perfect protection of the surface
– Significantly improved longitudinal and transverse dynamics
– Significantly improved acceleration and deceleration values ​​due to the lower, accelerated mass
– Improved and more agile handling and steering behavior
– Individual design and only available for BMW & BMW M cars
– Engineered and tested to work perfectly with modern BMW & BMW M cars
– Wheel and tire packages come with high-class Michelin tires
– Great longevity, material quality and durability
– 2-year worldwide warranty
All dÄHLer CDC2 21 inch FORGED wheels are manufactured at an ISO 9001:2015 certified facility, in Germany according to the latest regulations to fulfill the highest safety standards. Machining process takes place in fully automated production lines using the latest technology.
You might also be interested in our exhaust line: CLICK HERE
Are you from the US? CLICK HERE